This special page is to highlight some of the things that happen at an NMRA National Convention
Sunday 07/30/2000 (Photo's Below)
Today was my first day and I arrived early to see what tours were available. I was lucky and found a ticket for the Niles Canyon Steam Train and BBQ at the ticket booth. I also bought a ticket for the Peninsula Narrow Gauge tour featuring Bob Brown's On3 Tuolumne Forks (of NG&SLG fame), Don & Sue Watters Gn3 Lake Tahoe & Truckee, Dave Adams On3 Durlin Branch D&RGW, and Steve Anderson's Sn3 California Foothills Logging (following West Side Lumber Co. practice)
As a volunteer guide I get a free ticket to the Newark Fremont #1 tour featuring Jack Burgess's HO Yosemite Valley, Jim Dias's HO Western Pacific, Dave Clemens HO Camas Prairie, and Rick Zem's G Gold Canyon Railway.
Here is the Information Desk and Registration room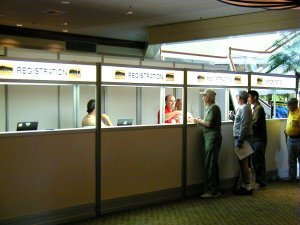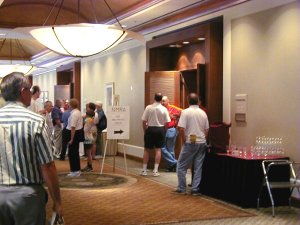 I pre-registered so I got my packet, in a nice canvas bag, complete with KAM software disc and convention pin among other goodies.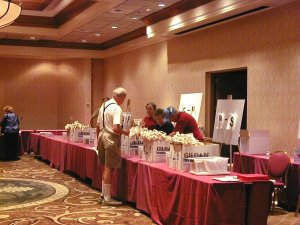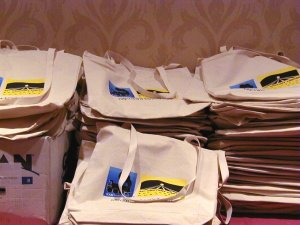 After getting my goodies, I went bought my tour tickets, then attended Tour Guide Training.