My DCC Wiring Page
These pictures are from under my Whitehall module. I have installed the North Coast Engineering system, and wired all modules with NCE Switch-it's to control turnouts.
The things left for my DCC projects are to get my turntable controlled by DCC, Connect my PC to the NCE controller, and get software installed for programming decoders and controlling the layout. I also need to convert the rest of my locomotives.
This picture shows the Controller/Booster; A 6amp transformer w/5A breaker on load; An AC EMI filter w/fuses/power inlet socket/ and power switch; An NCE Switch-it turnout controller; And Tortoise switch machines.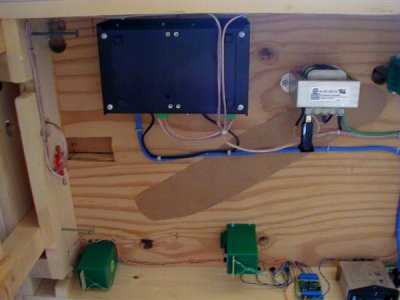 This next picture shows the NCE Cab Bus Panel (the blue wire is cat5 UTP). Also you can see that I have buttons wired to the Switch-it controllers for manual turnout throws. The big green wire is 12 AWG ground from the EMI filter.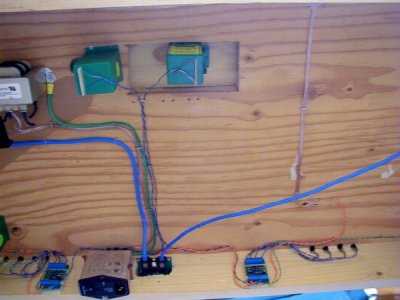 this last picture shows the feeder wires to the programming track. I just cut the rails to a siding at the station, then made that the programming track. The orange wires are power for the Switch-it's, and I powered it from the other side of the programming track's rails.
All feeder wires are 16 AWG speaker wire, and all other wiring is the wires from cat5 UTP wire; I took the twisted pairs out of the UTP cable because it is good quality 24 AWG stranded copper.